Best Christmas Quotes
And Holiday Sayings
Page 2 - Best Christmas Quotes & Holiday sayings. Enjoy!
"The best of all gifts around any Christmas tree:
the presence of a happy family all wrapped up in each other."
~Burton Hillis~ Xmas quotes
"My idea of Christmas, whether old-fashioned or modern, is very simple: loving others. Come to think of it,
why do we have to wait for Christmas to do that?"
~Bob Hope~  
"Christmas waves a magic wand over this world, and behold, everything is softer and more beautiful."
~Norman Vincent Peale~  
"Christmas is a necessity. There has to be at least one day of the year to remind us that we're here for something else besides ourselves."
~Eric Sevareid~
"Christmas is doing a little something extra for someone."
~Charles Schulz~
"One of the most glorious messes in the world is the mess created
in the living room on Christmas day. Don't clean it up too quickly." ~Andy Rooney~
"Christmas is a time when you get homesick - even when you're home."

~Carol Nelson~
"Christmas is for children. But it is for grownups too.
Even if it is a headache, a chore, and nightmare, it is a
period of necessary defrosting of chill and hide-bound hearts."
~Lenora Mattingly Weber~
"He who has not Christmas in his heart will never find it under a tree."
~Roy L. Smith~ Christmas sayings
"There is no ideal Christmas; only the one
Christmas you decide to make as a reflection
of your values, desires, affections, traditions."
~Bill McKibben~
"Christmas, children, is not a date. It is a state of mind."
~Mary Ellen Chase~
"What is Christmas? It is tenderness for the past, courage
for the present, hope for the future. It is a fervent wish
that every cup may overflow with blessings rich and eternal,
and that every path may lead to peace."
~Agnes M. Pharo~ Xmas quotes
"For the spirit of Christmas fulfills the greatest hunger of mankind."
~Loring A. Schuler~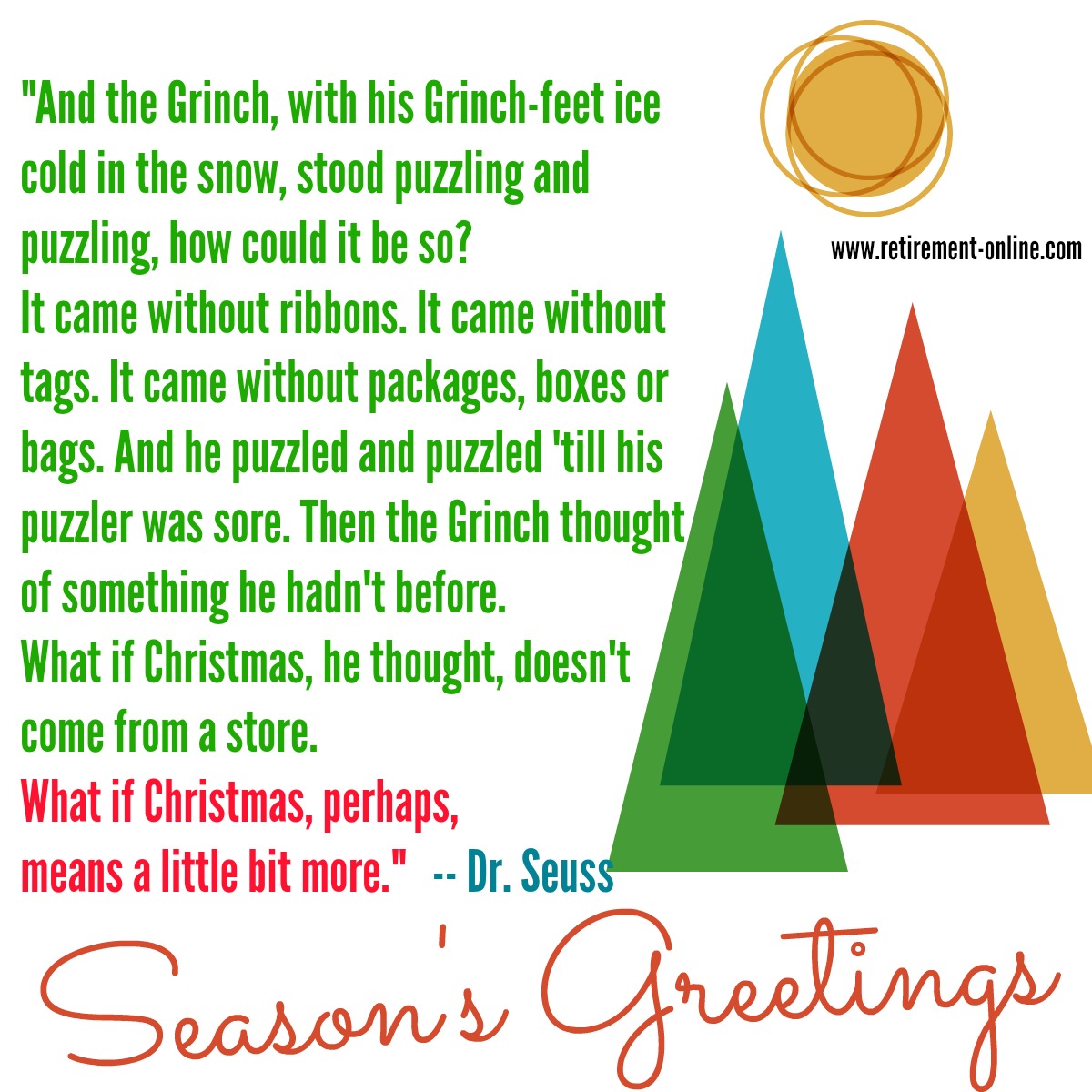 "And the Grinch, with his Grinch-feet ice cold in the snow,
stood puzzling and puzzling, how could it be so?
It came without ribbons. It came without tags.
It came without packages, boxes or bags.
And he puzzled and puzzled 'till his puzzler was sore.
Then the Grinch thought of something he hadn't before.
What if Christmas, he thought, doesn't come from a store.
What if Christmas, perhaps, means a little bit more."
~Dr. Seuss~ Christmas sayings
"If there is no joyous way to give a festive gift, give love away."
~Author Unknown~
"The only blind person at Christmas time
is he who has not Christmas in his heart."
~Helen Keller~ Christmas quote~
"Isn't it funny that at Christmas something in you gets so
lonely for - I don't know what exactly; but it's something
that you don't mind so much not having at other times."
~Kate L. Bosher~ Christmas sayings
"Christmas is the keeping-place for memories of our innocence."
~Joan Mills~
"Probably the reason we all go so haywire at Christmas time
with the endless unrestrained and often silly buying of gifts
is that we don't quite know how to put our love into words."
~Harlan Miller~
"Christmas is the day that holds time together."
~Alexander Smith~
"May the spirit of Christmas bring you peace,
The gladness of Christmas give you hope,
The warmth of Christmas grant you love."
~Author Unknown~
"Christmas waves a magic wand over this world,
and behold, everything is softer and more beautiful."
~Norman Vincent Peale~ Christmas quotes
"Christmas is not a time nor a season, but a state of mind.
To cherish peace and goodwill, to be plenteous in mercy,
is to have the real spirit of Christmas."
~Calvin Coolidge~
"Christmas day is a day of joy and charity.
May God make you very rich in both."
~Phillips Brooks~
"Every time we love, every time we give, it's Christmas."
~Dale Evans~
"Whatever else be lost among the years, Let us keep Christmas still a shining thing: Whatever doubts assail us, or what fears, Let us hold close one day, remembering Its poignant meaning for the hearts of men. Let us get back our childlike faith again."
~Grace Noll Crowell~
Go to Funniest Christmas Quotes